by Erica - January 1st, 2013.
Filed under:
Uncategorized
.
Our family was excited to enjoy not one, not two, not three, but FOUR Rounds of Christmas this year!  Tiring, yes!  But fun for sure, and definitely Canaan's favorite Christmas so far.
Round 1:  Bebe and PaPa Joe came up the Saturday before Christmas to kick off the celebration.  We got right down to the business of gifting when they got there, played the afternoon away, and rounded out our evening with a dangerously yummy meal at a local Italian restaurant called Portofino's. 
Round 2:  We are trying to establish a tradition of celebrating Christmas morning as just the three of us, so we had no company on Christmas Eve or Christmas Day.  We went to a lovely service at our church, and were surprised to find that all three of us had cameo appearances in the video detailing our latest giving project at Greenway Park Elementary School.  (If ya wanna see it, click here.)  Canaan was so excited about Christmas morning that we heard him singing "Hark the Herald Angels Sing" from his room until almost 10:00, and by 8 the next morning he was jumping up and down with excitement as we pulled the last "link" off of our Christmas Counting Chain.  We had a special French Toast Casserole for breakfast and then opened our gifts to each other.  (Probably the LAST time we'll be able to do things in THAT order. 
).  We figured that Canaan would get more than enough loot from all of his other Christmas rounds, so we didn't do anything really extravagant, but we did get him a small basketball goal to keep in the corner of his room.  We spent all afternoon shooting baskets with the rubber ball that came with the goal…and EVERY other ball we happen to have in the house!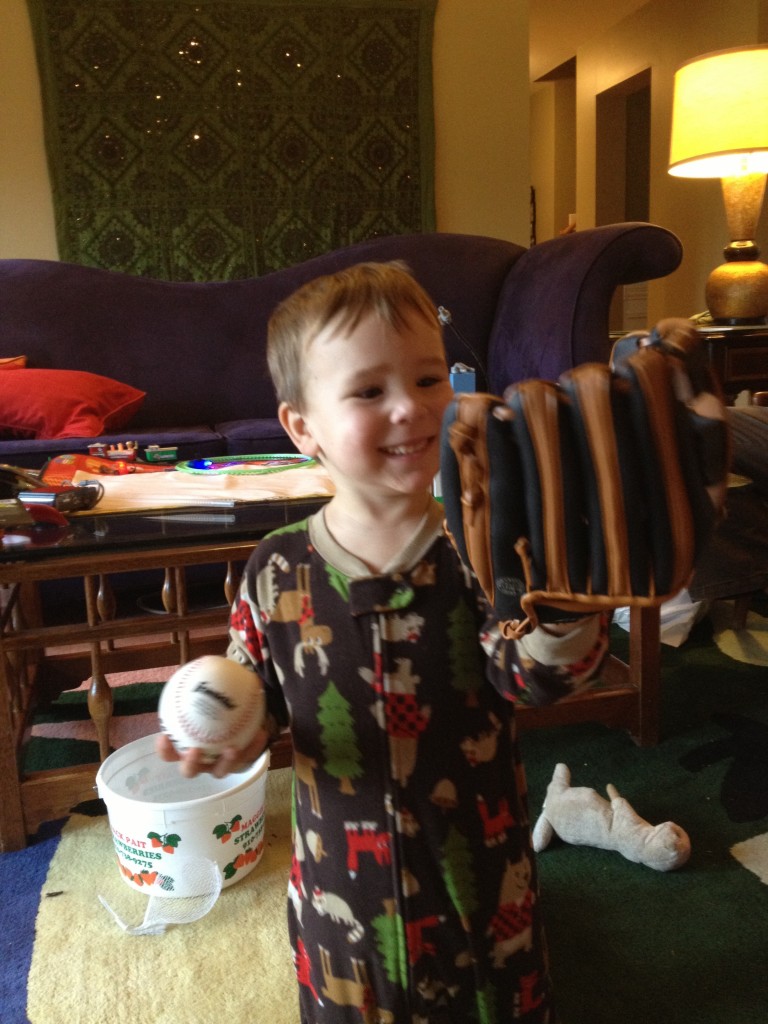 Round 3:  Gaga and Paw Paw came up late Thursday night so that they could be there for yet another Christmas morning on Friday.  The power wheel dune buggy that they had for Canaan definitely stole the show, but my heart melted when he casually told Gaga that afternoon (unprompted) – "Thank you to my truck, Gaga.  I like it."  In fact, there were many times that he remembered to say thank you this week.  Granted sometimes it was to the wrong person (he usually chooses whoever is playing with the object in question with him at the moment), but I'm proud of him for being so thoughtful.  To see Canaan's car in action, click here.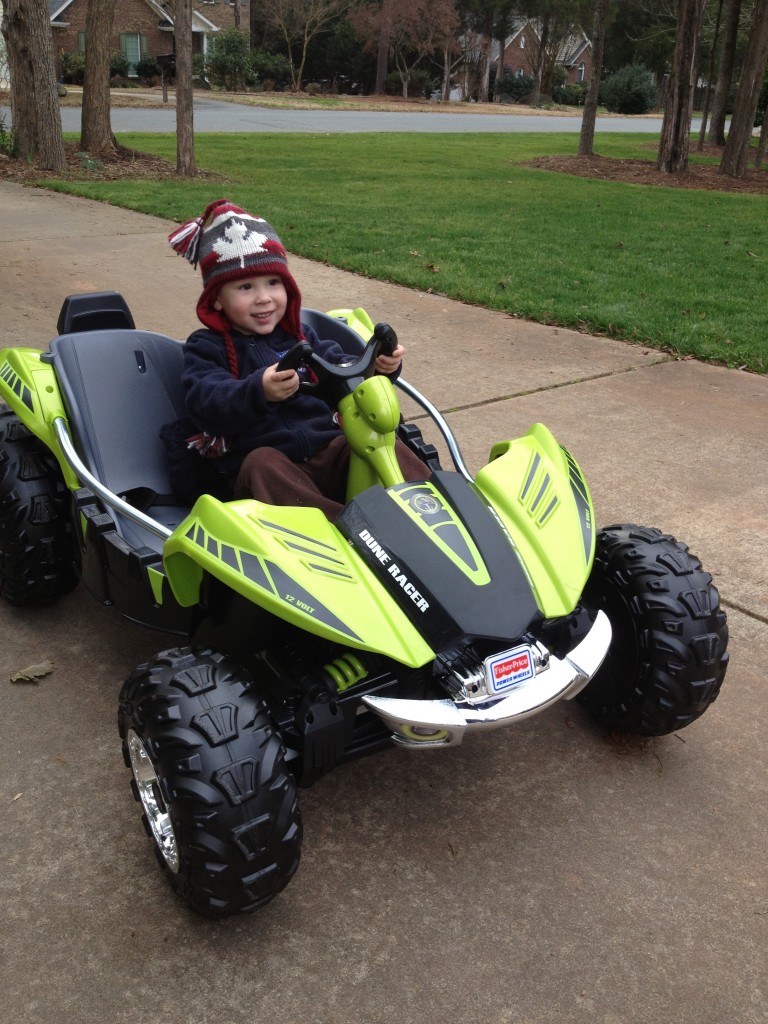 Round 4:  The last round of Christmas was definitely the biggest, ending our holiday season with a big she-bang.  Gaga's side of the family all converged on our house on Saturday for some lunch, gifting, and of course, family photos!  Canaan was the life of the party, and was an expert present-passer-outer, although a few times he had to double-check with Mommy on who was who.  (Funny thing about relatives, is so many of them look alike!) 
The next day we wanted to get out of the house for a bit, so we took a family day trip to Rumbling Bald, a bouldering area that overlooks beautiful Lake Lure.  The temps weren't that high, but the sun was out in full force, and we had a lovely day tromping through the woods and climbing rocks.  Steve has some vacation days that he needs to burn, so he'll be off all of this week as well.  We will all be really spoiled by the time he has to go back next Monday!  Happy New Year everyone!